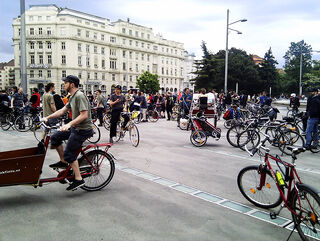 Practicalities Edit
Critical Mass Vienna happens on every 3rd Friday of the month.
Gathering at Schwarzenbergplatz sets in at 16:30. Departure is usually set around 17:00.
All cyclists and HPV (human powered vehicles) drivers are welcome. The driving speed is family friendly.
The starting point of our monthly ride is marked on the map below.
Advice for participants Edit
Be polite and partake in creating a calm, happy and non-aggressive atmosphere.
Stay together and close gaps.
Do not provoke car drivers and remain calm if conflicts occur. If you find it difficult to remain considerate, let other cyclists do the talking and drive on if possible. Do not promote aggressive behaviour and call upon other participants to be polite and kind.
Do not block oncoming traffic.
Do not block public transportation unless it is crucial for the safety of the group. Never block tramways and avoid riding on tramway tracks.
Allow pedestrians to cross the road if it does not split the group and can be safely done.
Give way to emergency vehicles.
We are usually accompanied by policemen and -women who assist with blocking roads. The police does not decide on the route we are taking. Act self-confident but also be sympathetic to the policemen and -women and do not harass them.
Our philosophy Edit
We consider the Critical Mass to be a spontaneous joint bike ride without a specific organiser. It is not a political demonstration. We express a shared joy in riding our bikes in the city and claim communal space that we believe should be distributed more fairly between cars, bicycles and pedestrians.
We aim to follow the law during our rides, but take certain liberties beyond that, such as driving side by side.
We frown upon attempts to misuse our rides to promote political issues, especially such with little or no connection to the subject of bicycling. You are welcome to share flyers or discuss any topic with participants during the gathering in advance of the ride and we have no objection against the wearing of individual symbols of personal beliefs. During the ride we do however kindly ask participants to refrain from carrying overly dominant banners, shouting or otherwise promoting political issues and sharing flyers other than Critical Mass flyers with bystanders or participants.
External Links Edit
{{#dpl: |category = Austria |category = Ride_locations |notcategory = Countries |notnamespace = Category |notnamespace = File |notnamespace = Template |mode = inline |inlinetext =   •  
}}