Home > List of rides > Sweden > Stockholm   Look up on Google / Wikipedia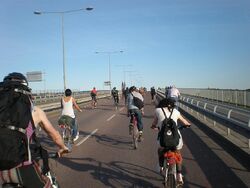 Stockholm's Critical Mass starts at Medborgaplatsen square every last Friday of the month (April to September only). Gathering at 5.30pm, start at 6.00pm.
You can join a Critical Mass Stockholm community on Facebook here.
***
More info in Swedish:
Sista fredagen i varje månad (april-september) samlas vi på Medborgarplatsen (kl 17.30) och cyklar tillsammans runt i stan. Om vädret tillåter avslutar vi med lite skönt häng + picknick i Tantolunden.

Älskar du också att cykla!? Kom med du också! Och ta med dina nära och kära!

Någon som kan ta med en megafon? Eller distribuera flygblad?

Lite inspiration till flygblad:http://criticalmass.wikia.com/wiki/Category:Flyers
Varför Critical Mass?http://en.wikipedia.org/wiki/Critical_Mass


Sparka liv i kreativiteten!..
...Tillverka roliga skyltar, hotta upp din cykel, bjud på lite underhållning, spela upp lite sköna cykellåtar på din musikapparat, ta med en gitarrspelande polare, visa upp lite cykeltricks, eller varför inte klä ut dig till en cyklande kanin..?

Ingen cykel? :( Hyr en alvedoncykel och cykla med "alvedonblocket"! ;)

Enhjulingar, freakbikes, flakcyklar, cyklar med släpkärror, tandemcyklar etc. välkomnas.

Glöm inte att stanna vid rött ljus, vidta försiktighet gentemot andra trafikanter...helt enkelt cykla lugnt med förnuftet i behåll. Det vinner vi alla på. :)

Glöm inte ringklockan!
*PLINGELING* - NU KÖR VI!
Vi ses vid Medis!
{{#dpl: |category = Sweden |category = Ride_locations |notcategory = Countries |notnamespace = Category |notnamespace = File |notnamespace = Template |mode = inline |inlinetext =   •  
}}