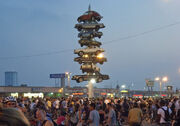 Spindle is a sculpture created by artist Dustin Shuler in 1989 that consists of a 40 foot spike with eight cars impaled on it.[1] It is located in the parking lot of Cermak Plaza shopping center in Berwyn, Illinois (Chicago) and was commissioned by the then shopping center owner David Bermant, who also donated his BMW car to be placed second from the top of the sculpture.[2] The foundation of the sculpture reaches nearly 30 feet into the ground; the cost of erecting it was over $75,000.[3] The sculpture has been featured in the film Wayne's World, on the cover of a book,[4] postcards, state tourist brochures and maps.[5]
Throughout its existence the sculpture has been controversial amongst Berwyn residents and in 1990 they voted overwhelmingly for it to be removed.[6] However, the Mayor of Berwyn has described the sculpture as "icon in our community",[6] and David Bermant claimed that the shopping center received 30% more business than comparable shopping centers due to the quirky art around the center.[2]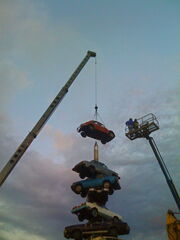 The future of the sculpture is now in doubt as the shopping center is to be redeveloped and the site of the sculpture is earmarked for a Walgreens store. It is currently being debated as to whether the sculpture should be relocated or simply removed due to the high cost of relocation (estimated at over $350,000). The uncertain future of the sculpture has again sparked disagreement between residents who view it as a Berwyn landmark and residents who view it as an eyesore. [5][7]
On August 1, 2007, radio station WLUP interviewed the Berwyn mayor with the main subject being the Spindle. According to the mayor, the sculpture's removal has been pushed to mid-September 2007, and the sculpture will most likely be moved down the street.
The sculpture was made available for purchase in an eBay auction,[8] which ended April 17, 2008 with no bids.
On May 2, 2008, Robinette Demolition disassembled Spindle. A large crowd stood near the site taking pictures. The top two cars were removed from the spike by a crane, and stored for future use. The base of the spindle was then cut, and the spindle (along with the remaining cars) was pushed over with a crane. If sufficient funds can be raised, a new Spindle – featuring the old top two cars – may be erected.[9][10]
Chicago Critical Mass
Edit
On Friday, July 27, 2007, The
Chicago
Critical Mass
rode to the
Spindle
in an effort to raise awareness surrounding the sculpture. Around 2,000 cyclists made the 14.8 mile trek from Daley Plaza in the Loop in support of the artwork.
[11]
References
Edit

This article or parts of this article are based on the Wikipedia article Spindle_(sculpture) licensed under the terms of the GNU Free Documentation License, version 1.2 or later. A list of the authors can be found here: [1]. You can help to improve the article.
Community content is available under
CC-BY-SA
unless otherwise noted.