Home > List of rides > United States > Paducah, KY   Look up on Google / Wikipedia
Paducah Critical Mass rides are on the last Friday of every month at 6:00PM beginning from the Farmers' Market parking lot.
The next ride is May 27th.
Note: Due to lack of interest, May 2011 might be the last scheduled ride here unless someone else takes up scheduling.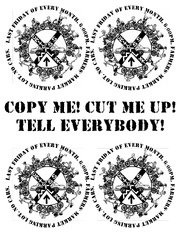 Everyone is encouraged to promote this ride in any way they can, including printing the flyer to the right, making your own, spreading the word, or any other means you may have access to.
This should be an all-ages-friendly ride. Helmets and lights are reccomended, but not required, as well as anything else that will make the ride more fun and/or safer.
What is the route? / How long is the ride?
Edit
Neither of these are set, but the goal of being visible to the general public and making sure everyone has a good time should be kept in mind.
Who can go?
Edit
Everyone! All types of bikes, all types of riders, and all skill levels are welcome. We've already seen brand-new road bikes, beaten-up hardtails, and recovered cruisers. If you don't know anybody that's going, great!
Why Paducah?
Edit
Paducah has an increasing number of bicyclists, but very little supporting infrastructure or sense of community for them. Paducah currently has 1.25 miles of shared path, and not a single bike lane or sign. This general lack of awareness of bike travel creates dangerous conditions for cyclists.
What's this for?
Edit
This ride is a potential way to break down the apparent "class" barrier among Paducah's many riding groups, forming a huge biking community and open the general public's eyes to just how many bikes are on the roads in this area. More importantly, it should be lots of fun for everyone.
Bike laws
Edit
Kentucky state safety standards.
March 26th, 2010: First official Paducah Critical Mass ride.
June 25th, 2010: A record group of 5 riders was celebrated with pizza and riding past sunset.
Community content is available under
CC-BY-SA
unless otherwise noted.