Home > List of rides > United States > New Orleans   Look up on Google / Wikipedia
New Orleans Critical Mass
[
]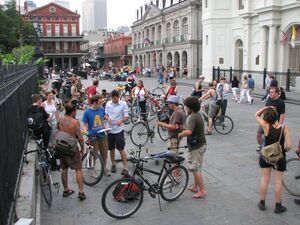 Critical Mass is a monthly bicycle ride to assert cyclists' right to the road, have fun and promote bikes as a form of transportation.
Critical Mass New Orleans meets the last friday of every month at 6 PM in front of the Jackson Square cathedral.
Tell your Friends, Bring your Mom, Bring a date.
In New Orleans, more than 1% of people ride to work on bicycle (compared to a national average of 0.04%). Also, more than 25% of residents simply do not have a car. Bicyclists deserve to feel safe on city streets and not as targets of motorist aggression and ignorance. New Orleans, as an Island Nation inside the United States, must be a leader in solving the problem of Carbon Emissions. Else we drown in Greenland's ice. 18% ridership or bust!
OUR GOALS
[
]
Increase biker visibility, and hence safety!
* GET MORE PEOPLE ON BIKES!! 18% ridership or bust!
* Make cycling fun!
* ONE LESS CAR. Car culture represents a serious environmental hazard.
* Encourage community-based organizing
DISCLAIMER:
No specific individual organizes or runs Critical Mass.
There are no leaders. Anybody can ride.
of course, the route is always negotiable, and subject to radical change. please give feedback! or come up with routes. or mis-lead the ride somewhere new and interesting.
What are we waiting for? Louisiana cannot expect to survive, playing the Oil and Gas industries' game. New Orleans is flat and compact and perfect for cycling. We have the potential to be a wonderful city for a clean energy future. We must take the lead if we expect the rest of the country and the world to support our continued existence on the slow-motion Mudslide we call home.
It's obvious this spill will go on past the next two months, but rest assured we will ride through them. and then, through the decades it will take the River and the Gulf to clean up the toxins. Let's show New Orleans the benefits of human-powered transport. Let's make our response bigger than this disaster. Let's show
1) The health benefits of cycling, relying on our own power, building our muscle, and breathing less car exhaust.
2) The traffic benefits of cycling, allowing more people to move through the streets, and doing less damage to the streets with less weight.
3) The climate benefits of cycling, emitting less while moving fast on fewer calories.
4) The social benefits of cycling, revealing ourselves during our commute as human beings, rather than mysterious figures behind metal and glass.
Please join us in a Ride for our Lives!
Promotional Materials
[
]
File:Bikeflyer edited summer2011.pdf
{{#dpl: |category = Louisiana |category = Ride_locations |notnamespace = Category |mode = inline |inlinetext =   •  
}}