Home > List of rides > UK > Exeter   Look up on Google / Wikipedia
EXETER CRITICAL MASS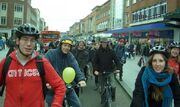 First Saturday of the month, meet midday in the Cathedral Green!
WHAT IS IT? Critical Mass is an 'unorganised coincidence'. It happens when a lot of cyclists happen to be in the same place at the same time and decide to cycle the same way together for a while, led by whoever cycles to the front and leads the mass for a while.
WHY? Everyday, all over the world, people are resisting the problem culture of the car by getting on their bikes and riding, instead of driving.However, people come to Critical Mass for a variety of reasons.. As many reasons as there are people! Eg To cycle in a group, to meet people, to get to know their city better, etc..
WHAT HAPPENS ON A CRITICAL MASS? Each one is different! We follow no set route, and cycle for as long as the Mass feels is right. Anyone is free to join or leave the ride at any time.Rides are peaceful, safe and fun!
DO I NEED A BIKE? Nope! Critical Mass is not just for bikes - skateboards, roller blades, wheelchairs, pogo sticks - in fact any form of non-motorised, non-polluting mode of transport are all very welcome!Say 'no' to polluting traffic, in an entirely practical way, for one day of the month.. On yer bike!!
Community content is available under
CC-BY-SA
unless otherwise noted.